Dodge 2020 Ram 1500 Now for Sale!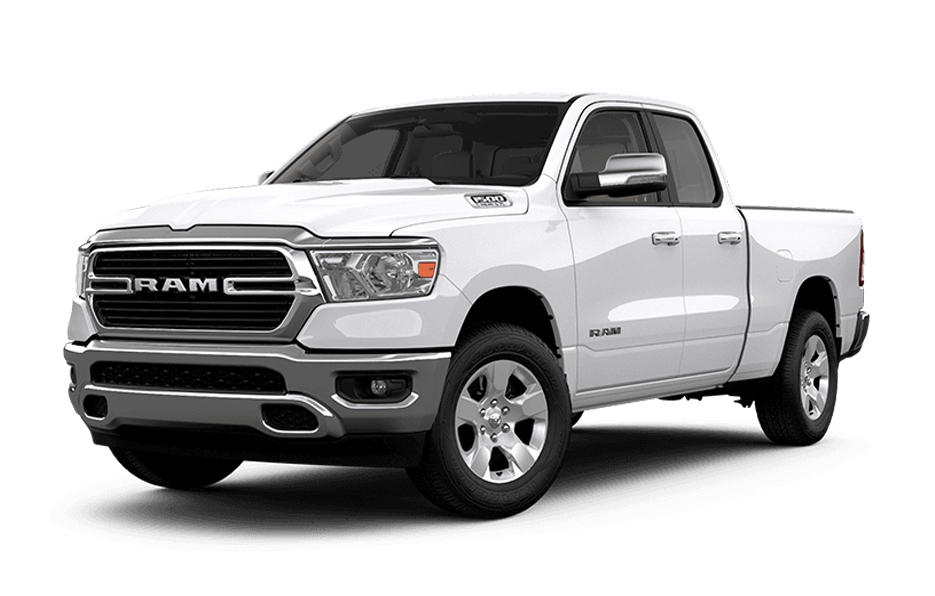 Performance. That's what you expect from a truck. When you consider a pickup, you're not looking for something for simple joy-riding or to turn heads driving down a city block. You want something with muscle, a reliable machine that's by your side to do the toughest work imaginable, day by day, year after year. Not just any truck fits the bill-but a Dodge RAM 1500? It excels at every turn, and Milton Chrysler is the top source for a Dodge Ram 1500 in the Mississauga area!
The new RAM 2020 1500 is not just a truck that provides the power, towing capacity, and durability that exceeds your expectations, it also maintains it's unmistakably stylish and unbelievably comfortable-that's right, you get to have the guilty pleasure of seeing heads turn as you roll by, as well as taking it out for a spin just for fun once in a while on the Mississauga streets. It's ok, enjoy your RAM. You've earned it.
While the Dodge RAM 1500 looks amazing on the outside, it truly shines where it counts the most-on the inside. The new RAM 1500 now comes with the new EcoDiesel V-6, that packs power and maintains with an improved turbocharger and cylinder breathing! As one of Canada's reliable truck, the new truck maintains its aerodynamic performance but carries a much lighter frame that withstands rough conditions and grueling tests from its previous versions. With you behind the wheel, no challenge or obstacle is too great for the new truck.

Think you can handle the new 2020 RAM 1500? Get in touch with Milton Chrysler today and book a test drive-you one. You won't be disappointed! 
Why Choose the Dodge RAM 1500
Under the Hood
The Dodge RAM comes with a winning choice of powerful engines:

3.6L Pentastar™ VVT V6
Canada's Best-Selling engine delivers a ground-rumbling 305 horsepower and 269 lb-ft of torque, while maintaining an amazing fuel economy as efficient as 9.6 L/100km highway!

5.7L HEMI® V8
With Canada's Best-Selling V8 engine, you're ready to take on anything, with a massive 395 horsepower, 410 lb-ft of torque, and a whopping 4,826kg towing capacity!

3.0L EcoDiesel V6
This Class-Exclusive engine not only provides a stunning 420 lb-ft of torque, but does so at an incredible Best-in-Class fuel economy of 8.0 L/100km highway!
Award-Winning Capability and Performance
The Canadian Truck King Challenge tests out the capabilities of industry-leading trucks in strenuous challenges that put their abilities to the limit. Rough off-road courses through rocky and hilly terrain, dead weight pulls, countless obstacles of mud, uneven and unpaved ground, and more, all serve to uncover the best pickups of their class.

And the Dodge RAM 1500 won. 3 times.

That's serious capability you can depend on. Come discover the power of Milton Chrysler's Ram 1500s for sale.
The truck for the Long Haul
Your truck, like a good power tool, needs to be reliable and work when you need it, every time. That's why Dodge RAM builds trucks that last, and the RAM 1500 is no exception.

Comparing light-duty trucks sold over the past 28 years, an incredible 81% of RAM 1500's are still on the road today! Compare that to the competing GMC and Ford at 70%, and Chevy at 68%, and it's clear which truck you can depend on for the long term-the Dodge RAM 1500.
Versatility only the RAM 1500 Can Offer
A truck needs to be as versatile as it is powerful-you don't use a truck for one thing and one thing only! Most hard work involves a wide array of different and varying tasks, and the RAM 1500 is up to it.

With the RAM 1500's Best-in-Class versatility, no other truck gives you as many options when it comes to your cargo and equipment. Features like the class-exclusive RamBox® Cargo Management system, under-seat storage, and a fold-flat load floor ensure you have more than enough space for all your gear. Top it off with a towing capacity of up to 4,826kg, and you'll never have to leave anything behind again!
---